Page 3 of 3
A DAY IN THE LIFE OF A FILIPINO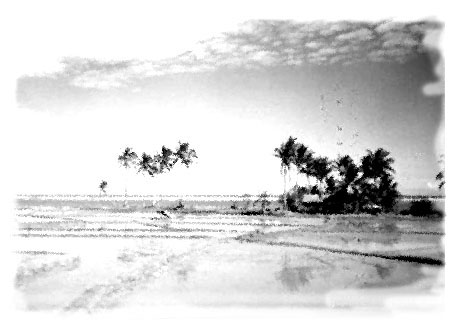 Mang Nestor had just risen from sleep and is quietly sipping a cup of salabat inside his kubo. In a few minutes he will commence a two-hour walk to the town. Mang Nestor is a rice farmer in a strife-torn town in the province. Today, however, he will not farm. He had been told a day before that the area where the rice fields are, had to be cleared to avoid an ongoing military operation against the rebels. Taking advantage of the break, he decided to spend the day to look for a doctor. He had long wanted something to relieve himself of the sharp pain he is feeling in his abdomen. He suspects it to be some liver ailment as he was told by the albularyo he consulted with.
At the health center, Mang Nestor dutifully waited for his turn. After patiently waiting for a few hours, he was finally called—only to be dismissed quickly by the attending health worker as he was told to come back the following week because the doctor should arrive by then. Besides, he was informed that there is no medicine available. He then headed slowly back for home. As he strode by the dirt road, he began to shake his head in regret when he figured that his habitual drinking could likely be the cause of his predicament. He smirks as he recollected all those whole-day drinking sprees he and his friends did back then to provide some form of cheap entertainment as well as to drown his hunger and miseries away.
His reflections were abruptly disrupted by a convoy of streaking vans escorted by several police and military vehicles that blew past him causing a hale of dust and dirt. As he squinted his eyes, he manage to glimpse at the black van at the center of the convoy. He nodded as though it was very familiar to him. A few years back, he recalled that it was the same black van that brought the town mayor to the plaza to deliver a campaign speech. A bus brought Mang Nestor, along with other people, there and they were promised a fifty-peso fee for the trip. The mayor then was running for re-election and was sincerely promising the townsfolk that, if re-elected, he will install deep-well pumps for potable water in their barangays as well as multi-purpose pavements to dry their palay. During the elections, he voted the mayor not because he was moved by the promises made but because he had sold his vote to the tune of five hundred pesos. His neighbors said they received more but then again, he thought, five hundred pesos are still five hundred pesos. The elections are near again yet the promises remained unfulfilled but the prospects of making a little money amused him. This time around he will sell his vote to the highest bidder. He is convinced they are all the same anyway.
Halfway to his home, Mang Nestor decided to take a break from walking under the scorching heat of the sun. He found a tree and gently sat underneath its shade. He appreciated the scenic view of the rolling mountains as he blew out a sigh of exhaustion. Near the base of a nearby mountain however, there seemed to be clouds of smoke. Then, he heard distant rumblings from the continuous cannon shelling. It is the war, he thought. How long will it take this time? He asked himself. It was a good thing he still had a half-sack of rice stored in his house. He had already conceded the possibility that his harvest will be completely destroyed. Anyway, he had already loaned out almost all of it to the rice cartel operator in the area in exchange of the money he used during pre-production.
He now wondered how his life would have turned out had he joined the rebels who were recruiting him more than a decade ago. Would have his life turned out better? Maybe not! For he vividly remembers an incident a few years back when a band of guerillas stormed their barrio and took out all of their harvest and their poultry. He simply could not understand why these people who fashioned themselves as the saviors of the masses would ransack the homes of the very same people they claimed to be fighting for. He still would not have joined them anyway because no one would have taken care of his family.
His wife, like him, is illiterate and could not work. Actually, only one of his six daughters had gone past grade six! Aside from the fact that he could not afford their education, he remembered what was taught to him by his own parents—"Knowing how to read and write your name and how to count money are the only things you need to know to survive." What frustrated him though, was the fact that he had no sons to help him in the farmlands. His two elder daughters had gone to Manila to work as housemaids. The next two are still at home helping their mother. The fifth daughter left for the city to look for work a year ago but he had not heard from her since. His neighbors had this vicious rumor that she had ended up working as a prostitute. While the youngest child, the brightest and the one who had the most promising future had eloped at a tender age of fourteen. In deep thought, he did not notice the tears that rolled down his cheek. He asked himself, what have I done to deserve this? Maybe I was not praying enough, he answered back. But his family rarely missed going to mass. Nonetheless, he pledged to himself that this Sunday he would pray more fervently than he did during the previous weeks.
In his reflections, Mang Nestor had lost track of time. He looked up and estimated the time to be way past noon, which was why he had grown hungry. He contemplated on resuming his walk for home but then he realized there was nothing to eat there except the boiled malunggay leaves his family has been eating for the past several days. So, instead, he decided to lie down on his back and sleep.
The plight of Mang Nestor is but one of the more than forty million Filipinos or more than half of our population living below the poverty threshold. Each one goes through a similar ordeal everyday. Their lives are the representations of the true state of the nation with all the societal problems, government shortcomings and the damaged culture that had made them weak, powerless and helpless.
This reality is far different from the picture of peace and progress being painted by the government. And what the elite and middleclass are seeing is but a mirage, a wall of denial formed by their minds through the cloud of deception wittingly created by the present regime and unwittingly propagated by the media.
Indeed, where is peace and progress in the lives of the masses? Where is the government in the life of Mang Nestor? How does the multi-billion-peso budget impact on the poor? Where is social equity? Who is fighting for their rights? Where is equality and social justice? What does the future hold for the Filipino? (Anonymous)
So That You May Know…
That on August 16, 1999, a Sangguniang Bayan Resolution No. 26-99, authored by Councilor Juan G. Galindes, Chairman on Education then, requested the former DECS (now DepEd) and the Schools Division Superintendent of Sorsogon, through the Assistant Schools Division Superintendent for Secondary Schools, Mr. Jose Evasco, to look into the possibility of opening a public secondary school in Bulusan due to the clamor of the poor families in the municipality.
That on January 18, 2000, Mrs. Concesa G. Montenegro and her only son, Albertini, executed a Deed of Donation for a lot in favor of the Local Government of Bulusan for the purpose of having a school site for the proposed secondary school in the municipality. That it is a requirement for the opening of a school that the school site be in the name of the DECS; so, a Sangguniang Bayan Resolution transferred the name of the donation from the Local Government to the DECS.
That during the School Year 2000-01, Bulusan High School started its operation with first year students. Then by the following school year there was a class for 2nd year students. By the middle of the school year, by a MOA between the TESDA and DECS, the students (2nd year to 4th year) of the Bulusan National Vocational and Technical School at Lower San Jose, Bulusan, were transferred to Bulusan High School. The BNVTS maintains its courses for the tertiary level, including the short term ones.
Looking deeper into the Deed of Donation executed by the Montenegro family, it is clear that Mr. Albertini Montenegro, a Guidance Counsellor at Magallanes High School, be transferred to Bulusan High School as Teacher-In-Charge and be given the priority of appointment as head of the school. Furthermore, Mr. Montenegro's family and his heirs be given the exclusive right to operate the school canteen.
Therefore, Bulusan High School is operating normally not as a COLORUM school or a BOGUS one, as pronounced by the Chairman on Education of the present Sangguniang Bayan of Bulusan. By March of 2004, the third batch of 4th year students are graduating.
However, it is our desire and hope that the Bulusan High School be approved by Congress so that appropriations for teachers' salaries and new items and school buildings, equipments, etc. be allocated annually in the National Budget by the National Government. At present we have teachers who are paid by the School Board, both municipal and provincial.
BULUSAN HIGH SCHOOL is our public secondary school in town. Let us join hands in helping its development and growth, its expansion, and most of all its maturing in its role and function as a learning center for the Bulusanon, particularly the poor but deserving students. (JGG)
---
REPUBLIC OF THE PHILIPPINES
DEPARTMENT OF AGRICULTURE
MUNICIPAL AGRICULTURAL AND FISHERY COUNCIL
BULUSAN, SORSOGON
CP#09196528823
NANO TABI AN MUNICIPAL AGRICULTURAL AND FISHERY COUNCIL (MAFC)
Una tabi sa intero nagpapasalamat ako sin dako dako sa hinatag na oportunidad san editor sini na Damayan-Buluseño Gazette para tabi maipaabot sa ato mga kabubungto nan sa mga Bikolanos na dapat na tabi magdaranon na kita para malabanan ta an ato kasakitan san ato pagkabuhay pakadto sa kaginhawaan. Hingohaon ta sa paagi san pagproduser sin abundante na pagkaun para sa ato na mga Bulusanon nan para sa iba pa na nangaypuhan.
Binabati ko man tabi sin mayad na kamutangan an intero na inaabutan sini na Gazette.
Sa presente, ako tabi an Chairman san Municipal Agricultural and Fishery Council (MAFC) o Consejo san mga Parauma nan Paraisda sa Bulusan. An Executive Order No. 116 nan san mga mandato san Department of Agriculture an nagbilog tabi sini na consejo para lambang sayo sa ato magpartisipar o magdaranon kita para sa pinkamayad na himuon para magamit nato sa mayad na sistema an ato mga kayamanan hali sa uma nan dagat.
Iniimbitaran man tabi san consejo an sin-o man na taga Bulusan na gusto tabi mag-intra o mag-atender san bulan bulan na miting san consejo didto tabi sa MAFC Office, Sabang, Bulusan, Sorsogon o kaya mag-text sa numero 09196528823 para sa iskidyul san miting.
Niyan tabi na taon 2004, mayon po kita sin opat na proyektong pangkabuhayan. Pagpatubo (mushroom culture), pagpadaghan san gulaman (euceuma culture), pag-ataman sin ligwan (honeybee culture) nan rehabilitasyon san ato abaka. Sa masunod tabi ato pag-iirestoryahan an kada sayo sini na proyekto.
Sa nano man tabi na kahaputan o kontribusyon na ipaabot niyo sa consejo sumurat o magtext sa address nan CP# sa itaas.
Salamat nan MAGDARANON PO KITA!
Minagalang,
(Sgd.) RUBEN G. GONZALES

MAFC Chairman, Bulusan

Coordinator, AMAG Bulusan

Treasurer, Tubong Bikol Association, Region V

---

Dear Editor:

Saludo aco cun Mr. Fuentes sa cusog san boot niya na iluwas an caniya disappointment manongod sa nangyayari niyan sa Bulusan sa larangan san politica. Cun sabagay, deri man hamoc sa Bulusan ini nangyayari cundi sa iba-iba na lugar sa Pilipinas. Sana matuto na an mga politico nan likayan na ibaba an canira dignidad ma-elect lang bilang oficial san bungto. Deserving pa caya sira sa titulo na "honorable"?

Caya bilog an paghanga co cun Mrs. Fe Fortades-Galpo na deri siya nagbacal sin boto maski na ngani sia napierde san nacaagui na eleksyon. She emerged from the electoral exercise with her dignity and self-respect intact. Sin-o pa caya an macairog sa caniya sa mga candidato niyan?

Sayo pa, sunarat sia sa Philippine Daily Inquirer manongod sa maraoton na calsada hale Barcelona nan Irosin pacadto sa Bulusan. Marasa pa cay awaton na panahon deri nagod nahingayad ini na calsada.

Pangadyi co na mapucaw na an mga candidato nan cun macaluwas himoon an tama para sa icaayad san intero.

Salamat. May the Good Lord Bless Us All!


Richie F. Gacosta
Metro Manila

---

It is with profound sadness that we learn of the death of Mother Letty through the Damayan-Buluseno Gazette. She has served her God well and has loved her neighbors equally, if not better than she loved herself.

She definitely deserves to be reunited in harmony with her Maker.


Geminiano V. Galarosa, Jr. and Lorna R. Galarosa
Guindulman, Bohol
February 22, 2004 - DBG Online Feedback Form


---


Thank you, Mrs. Tenazas!
Tia Letty to many, "Madre Superiora" sometime to Inoy Elio Fuentes, but we simply called her "Ma'am or Mrs. Tenazas" - and we believed she liked it, no less.
She's gone! Yes, the Treasurer is gone!
She may have left us physically, but in our hearts she lives on.
When we were under her care some years back, every time we had our meals together, especially dinner, she would always give us a topic to discuss as if we were in a classroom where she was the teacher and we were the students. No wonder, the grand lady of Damayan was a graduate of the Philippine Normal Univesity then Philippine Normal College, which is well known as good breeding ground of teachers. As exchanges of ideas continued, some would side with Mrs. Tenazas' stand while others would oppose although mildly, by giving explanations of their own. In the end however, Mrs. Tenazas oftentimes prevailed as her explanations were always backed-up by her own personal experiences in life or by somebody else's mostly her friends and acquaintances in the religious communities including Damayan, or in her business community where she was among if not the forerunner. She would always end the discussions like a mass celebrant concluding a great homily before a very silent but attentive group of parishioners. We would surely encounter the same experiences, Mrs. Tenazas always reminded us, as we sail further through our own lives.
Truly, later in life we realized how meaningful her words are especially as we continue to seek our "better place in the sun," negotiating oftentimes the uneven roads of life. Her words of guidance on how to deal with the challenges on these roads had greatly helped us.
Thank you, Mrs.Tenazas, though we know that thanking you would never be enough.
- Ewin, writing in behalf of earlier scholars who stayed under the care of the late Mrs. Tenazas
- February 26, 2004 (private e-mail)
| | | | |
| --- | --- | --- | --- |
| December 2003 | | | |
| 26 | Gualberto Camposano | 67 | Sapngan |
| 28 | Benito Evasco | 80 | San Jose |
| January 2004 | | | |
| 3 | Luis Fortes | 87 | |
| 7 | Nicanor Fullo | 75 | Mabuhay |
| 9 | Ceferino Banuelos | 73 | Bagacay |
| 11 | Josefa Fulleros | 92 | Dapdap |
| 12 | Estelito Diño Fulla | 64 | Mabuhay |
| 18 | Roger Fuentes | 65 | Salvacion |
| 18 | Armando Gallardo | 51 | Buhang |
| 19 | Roland Furaque | 29 | Capiricohan, San Isidro |
| 19 | Sales Furio | 39 | Mabuhay |
| 26 | Bernardino Zarsuela | 86 | Mabuhay |
| 30 | Fernando Fulleros | 57 | Dapdap |
| 30 | Benjamin Gallego Pura | 74 | Sabang |
| 30 | Pedro Garcia Galos | 45 | Sabang |
| February 2004 | | | |
| 4 | Vicente Gutierrez Guysayko, Jr. | 47 | Buhang |
| 11 | Carmelo Perez Jr. | 49 | Buhang |
| 16 | Concepcion Fullon Firmanes | 80 | Dancalan |
| 18 | Marciana Margelino | 89 | Buhang |
| 19 | Jose Frayres | 54 | San Antonio |
| 20 | Santiago Gallardo | 59 | Dapdap |
| 20 | Afelix Habulan | 71 | Buhang |
| 26 | Concordia Ortiz Espedido | 84 | Looban |
| 26 | Concordio Furio | 76 | Mabuhay |
| 29 | Diogenes Estayane | 65 | Dapdap |
ADDENDA
1. Also running for a seat in the municipal council is Mrs. Leticia F. Garalde, a retired mid-wife at the Municipal Health Center, now a businesswoman. Originally residing in Barangay Sabang, now in Barangay Dapdap.
2. An independepent candidate for the vice-mayoralty post is Ms. Edelyn G. Fortes of Barangays Looban, San Isidro, and San Roque—a consistent honor student and a board topnotcher, a computer programmer and a licensed geodetic engineer.
ERRATA
We would like to make the following corrections on the following items as reflected in our previous (November – December 2003) issue:
1. Page 3, 1st paragraph, 2nd column: Noemi Gallego should be Noemi Gallego Gamil.
2. Page 3, 2nd paragraph, 2nd column: Kagawad Danilo G. Freo of Barangay Sta. Barbara should be of Barangays Bagacay and San Isidr
3. Page 3, 3rd paragraph, 2nd column: Reynaldo D. Din of Barangay Sabang should be of Barangay Mabuhay