Page 1 of 3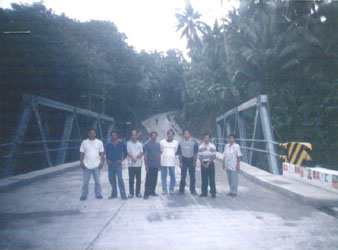 The new concrete bridge on the road to Barangay San Francisco (Capangihan) has been a great relief to local residents since its completion almost a year now.
That is why, although a bit late, the residents led by their chairman, Jose Fuentes and other officials, would like to express their gratitude to President Gloria Macapagal-Arroyo for making it one of her priority projects. The project was under the president's Bridge Program – II assisted by the Austrian Government thru then DILG Secretary Jose D. Lina, and implemented by Sorsogon Governor Raul R. Lee.
Unlike before, the residents can now travel with their goods to the market and back even on rainy days without fear that floods would easily wash their bridge away.
With this development, the residents could just hope that their roads be given the same attention. In imminent need of renovation, having such asphalted or cemented would encourage tourists, both foreign and local, to see and experience what their barangay has to offer.
One of the more famous falls in the province, the Bayugin, is within their limits. The same applies to Buko Pass, an enduring witness to the strong resistance that the locals in this side of the province fielded against the Americans.
A SENATOR AS X'MAS PARTY GUEST
A senator will most likely be the Guest of Honor & Speaker for this year's Christmas Party celebration of Damayan-Buluseño, Inc. which will be held on Sunday, December 12 at the Knights of Columbus Clubhouse in Intramuros, Manila. That is, if the senator would be available on the said date to grace the occasion. If not, the association may invite other public official or civic leader who may have the same vision and aspiration as Damayan-Buluseño, Inc.
On that same occasion, DBI will also gather the solicited donations of cash, various foodstuffs, and clothes for its yearly Damayan Christmas Drive, a gift-giving project for the poor families back home.
In this connection, DBI appeals to fellow Buluseños for support for the sake of their suffering townmates who eagerly expect it every December. In this project, the association sends home the foodstuffs and clothes while the local residents augment the items with rice.
Buluseños particularly in Metro-Manila and nearby areas are urged to join the Christmas celebration as it is expected to be a very colorful affair.
To be invited to present entertainment numbers are the PASIGYAW Dance Troupe of the Pamantasan ng Lungsod ng Pasig and the PNU Chorale of the Philippine Normal University where a scholar of Damayan-Buluseño Foundation, Inc., Marissa Frando, is a member.
Also to present a number is the Damayan-Buluseño Choir.
For the past six years, Damayan-Buluseño, Inc. has been bringing cheers to poor Buluseño families during Christmas season through its yearly Damayan Christmas Drive.
In this gift-giving project, DBI solicits donations of various foodstuffs such as sardines, corned beef, milk, sugar, coffee, and noodles and brand new and used clothes and other personal effects. These items are sent to Bulusan for distribution among the needy Buluseño families through the association's local coordinating board headed by Mr. Juan G. Galindes.
The above items are augmented with rice which shall come from caring local residents.
Since its implementation in 1998, indigent Buluseño families now eagerly await for it every December. Needless to say, it has become another successful yearly tradition of DBI.
Its success, however, is due mainly to the support of Metro-Manila-based Buluseños and local residents of Bulusan who willingly share their blessings with their less fortunate townmates.
As Christmas is now fast approaching, the association once again appeals to generous Buluseños and friends for whatever assistance they may extend to make this gift-giving activity a success like the previous ones.
For the sake of the lowly Buluseño families who long for the concern of their well-off kababayans especially on Christmas season, DBI hopes in this time of severe economic crisis, this appeal would not be in vain.
Those who wish to share may bring or send their donations to DBI during its Christmas Party at the Knights of Columbus Clubhouse, Intramuros, Manila, on Sunday, December 12, 2004 at 2:00 P.M. where they are cordially invited.
For more information on this project, they may inquire from Mr. Rogelio "Elio" Fuentes, DBI president, at telephone no. 929-5277.
IN RESPONSE to the appeal of Damayan-Buluseño, Inc. for support to its various civic and humanitarian activities, a young couple donated an amount of P5,000 to the association.
The couple, Michael G. Katindig and the former Analiza Barnal made the donation through Ms. Luz Z. Gamba, DBI's 1st vice-president, during the blessing of their newly-renovated residence at Katapatan Village, Cabuyao, Laguna, last September 18.
The two believe that the comfortable life their family now enjoys they owe to the Almighty and the most meaningful way to express their gratitude is to share their blessings with others especially the less fortunate. That's why they are entrusting their donation to DBI as it has been known for its many charitable undertakings.
Michael, or Mike, who is only 27 years old, works as a liaison officer at the Bulusan Travel and Tours Corporation in Pasay City where Ms. Gamba, his mother, serves as president. Analiza or Ana, also works there as reservation officer.
The couple's wonderful gesture greatly impressed the officers of the association particularly its president, Mr. Rogelio F. Fuentes, as it came at a time when it is very much in need of additional funds for its forthcoming Damayan Christmas Drive '04.
Mr. Fuentes lauded their act of generosity and hopes it will somehow touch the hearts of others who have all the means to share for a worthy cause.
GERMAN LADY SENDS 50 EUROS
MISS URSULA "UISCHI" DANIELS of Hamburg, Germany, donated 50 Euros to Damayan-Buluseño, Inc. The donation was sent to the association through her close friends, Rebecca Frayna, a Buluseña, and Lorna Floresca of Barcelona who are in town for a vacation.
Miss Daniels knows very well the various activities of DBI through the Damayan-Buluseño Gazette which Rebecca and Lorna regularly receive in Hamburg where they have been residing for many years now.
Because of Rebecca who was the first Buluseña to set foot in Hamburg, Bulusan has become very close to the hearts of Miss Daniels or Uischi and her twin sister, Erika. They visited the town in 1978 and instantly loved the place. They enjoyed most of all their swimming at the Karawisan Beach in Barangay Talaonga, Sta. Magdalena because of its clean and pristine waters.
In 1987, Uischi came back with Rebecca but without her sister Erika because she got married.
Uischi, who is a secretary in a firm in Hamburg and still single at 59, intends to take another vacation in Bulusan this coming Holy Week.
In his acknowledgement letter to Miss Daniels, DBI president, Rogelio Fuentes appreciated very much her kindness and thoughtfulness. Her donation, he said, will help much in the association's yearly Damayan Christmas Drive.
THANK YOU VERY MUCH, UISCHI! MABUHAY KA!
JOJO FURISCAL IS ARNIS CHAMP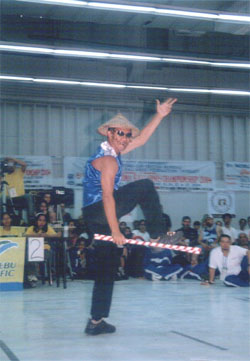 Perhaps except for his family, close kins, and friends – most Buluseños do not know or haven't heard about Juan E. Furiscal, Jr. Jojo, as he is more popolarly known to those close to him, is a true-blooded Buluseño whom the people of Bulusan should be proud of.
Unknown to most Buluseños, Jojo has been bringin home honors not only to Bulusan but to the entire country as well by way of the several gold medals he has been reaping since he started participating in the various Worl Eskrima-Kali Arnis Championships here and abroad.
Jojo started his career in the field of arnis when he joined the Samahan ng Arnis ng Muntinlupa in 1990 at age 11. They were trained for the competition by Mr. Reynan Bong Cañete of the Cebu-based Doce Pares, a member of the World Eskrima-Kali Arnis Federation (WEKAF).
He had his baptism of fire at age 15 when he joined the championship games in 1994 at the De La Zalle-Zobel Gymnasium in Ayala Alabang, Muntinlupa City. In this competition which was participated in by 18 countries, he won a gold medal in the Group Forms category.
In 1996, he won 3 gold medals in three categories when he competed for his second championship series held in Carlton, USA.
1n 1998, for his third attempt, he got two golds and a silver in two categories.
He repeated the same feat in 2000 when he competed in Cebu City.
In his fourth game last June, he won again 3 gold medals in 3 categories. A total of 26 countries were represented in the said competition.
Jojo's team is now preparing for the next competition scheduled sometime next year in Australia where more than 20 countries are expected to participate.
Arnis is an ancient Filipino art of self-defense with the use of one or two 29-inch sticks. It has been practised by the natives long before the Spanish conquistadores reached Philippine soil. It is said that it was Lapu-lapu who introduced arnis to the world otherwise known as eskrima or kali when he engaged Magellan in the historic Battle of Mactan.
The World Eskrima Kali Federation of which Jojo's group is a member has 35 member-countries all over the world.
Jojo is the son of the late Juan Furiscal, Sr. of Barangay Dapdap and the former Paz Emberga of Barangay San Francisco, both of Bulusan. A computer technician graduate from the International Electronic Institute in Muntinlupa City, he is with the Philippine Navy Arnis Team where he is also employed as a seaman. On Sundays, he trains security guards and high school students from different schools.
He is married to the former Girlie Dominquil with whom he has a three-year old daughter.
For those interested to learn the art of arnis for their own personal protection, they may get in touch with Jojo at telephone no. 800-5815.

Articles Menu | Top | Page 1 | 2 | 3 | Next Page »