Page 2 of 3
FR. FRANCE, BULUSAN'S NEW PARISH PRIEST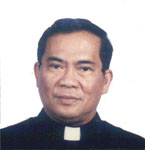 AFTER twenty-five years serving parishes in the USA, Metro-Manila, and in the province of Sorsogon since his ordination, Rev. Fr. Domingo A. France has finally come home: he is now the parish priest of St. James Greater parish in Bulusan, his hometown.
Together with his assistant, Rev. Fr. Romy H. Dimaano, Fr. France assumed his new post on July 1, 2004 before a crowd of fellow Buluseños who warmly welcomed them. His present assignment is a great relief to his townmates who have long been wishing him to be their parish priest.
Knowing fully well his vast experience in the management of church affairs and his impressive accomplishments in his past assignments, the local parishioners expect big changes in their religious activities and improvements of the church's facilities.
Upon his assumption, he concentrated on the proper administration of the sacraments, fiestas, incomons, parish barangay masses, and the implementation of the Diocesan Ecclesiastical and Evangelical Program (DEEP).
According to Fr. France, his immediate concern now which he would like to appeal to the parishioners are fourteen pieces of stained glass and the construction of the church's sibay or side wings. This is to protect the churchgoers who are seated near the church's side doors from getting wet on rainy days. The rectory also needs immediate repair, he added.
If it were possible, he said, he would like to start right now the construction of a concrete alleluiahan in time for next year's Easter Sunday celebration. He pointed out that of the sixteen towns of Sorsogon, Bulusan is one of the only two remaining parishes with no such permanent facility.
Fr. France who is now in his mid-fifties, is the son of farmer Pedro France and the late Mercedes Aguilar of Barangay Looban, Bulusan. He took his elementary and secondary education in his hometown but finished his priesthood at St. John's Seminary in Camarollo, California, USA in 1979. He was ordained in Los Angeles and became assistant priest at the St. Anthony Parish in Long Beach until 1980.
On his return to the Philippines, he was assigned assistant priest at the Sts. Peter & Paul Cathedral in Sorsogon City. He later became the parish priest of St. Joseph Parish in Barcelona, Our Lady of the Pillar in the town of Pilar, St. Anthony in Gubat, and chaplain of the San Juan de Dios Hospital in Pasay City where he underwent medication for his diabetes. It was during this period that he was also the regular celebrant of the monthly mass for Damayan-Buluseño at the Knights of Columbus Clubhouse in Manila which is considered as an extension of the Parish of St. James the Greater back home.
Prior to his assignment in Bulusan, he was the rector at the Sts. Peter & Paul Cathedral in Sorsogon City. Now that he is in his hometown, many observers are of their honest opinion that with Fr. France's dedication to his parish, there is no doubt the Buluseño parishioners can now see the realization not only of his plans for the improvements of the facilities of their church but the upliftment of their spiritual well-being as well.
ST. JAMES THE GREATER, ON THE GO
The Parish of St. James, the Greater, under its new parish priest, Rev. Fr. Domingo A. France, a native-born Buluseño, supports the local church's programs and activities. Delegates to all Diocesan conferences/seminars are given by the Parish Pastoral Council allowances for registration and transportation.
The month of October is Rosary Month. The image of Our Lady of the Most Holy Rosary will be brought to all barangays in a procession as scheduled; will stay in a certain place for three days with the people saying the rosary in the evening. The culminating activity is to be managed by the Immaculate Heart of Mary School, under the Franciscan Sisters.
On-going projects for the improvement of the church's physical aspect are as follows:
1. Cleanup activities at the Catholic cemetery through bayanihan (August 23) headed by all hermanos. Snacks and lunch to be provided by religious organizations.
2. Construction of a cemented pathwalk from the patio center to the rectory, and paving of the latter's front yard - by all hermanos headed by the hermano mayor.
3. Constuction of a permanent alleluiahan courtesy of the Halum family
4. Repair of the rectory's roofing and gutter through solicitation of materials
5. Renovation of the old belfry by the Holy Name Society to come up with its antiquity
6. Improvement of the patio walls and Punta Diamante by the incoming Hermano Mayor. Installation of new hermanos slated on October 17, 2004. (Juan G. Galindes)

PERMANENT CASTILLO TO RISE SOON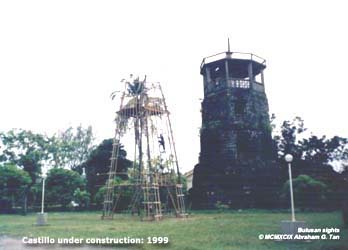 Very soon, the Parish of St. James the Greater of Bulusan will no longer be one of the only two remaining parishes in the Province of Sorsogon with no permanent castillo or alleluiahan. The yearly construction of its temporary structure for the Easter Sunday ritual will be a thing of the past, that is, when a concrete one rises within the church patio courtesy of the prominent Halum family.
The Halum family made this commitment after attending the burial of their brother Martin on August 21, 2004.
When finished, it will be the realization of the cherished wish of the town's newly installed parish priest, Rev. Fr. Domingo A. France, a native-born Buluseño.
It will be recalled that since time immemorial, the castillo in Bulusan has been put up every year before the Holy Week in different places in town depending on the wish and pleasure of the parish priest and the hermano. It is usually made of light materials for easy dismantling after the occasion.
Inspired by similar edifices (but of concrete materials) that he has seen in other parishes, Fr. France made it as one of his top priority projects in his hometown.
Its construction may start anytime now to make it ready for next year's Easter Sunday.
In preparation for the January 2005 implementation of the Diocesan Ecclesiastical Evangelization Program's (DEEP) Diocesan Pastoral Plan – Phase IV 2004-2009, the Local Church of the Diocese of Sorsogon is conducting a series of conferences/seminars with the purpose of disseminating information about the Program.
August 21, 2004
- Family and Human Life Council Core Group at Gubat Parish Rectory, Gubat, Sorsogon.
- Council on Service at Licup's Hall, Sorsogon City
- Council on the Laity at St. Matthew's Hall, Sorsogon City
August 28-29
- Community Organizers, Minor Seminary, Sorsogon City
September 11
- Pastoral Moderators at every vicariate
a. Sts. Peter & Paul, Sorsogon City
b. Our Lady of the Pillar, Pilar, Sorsogon
c. St. Anthony of Padua, Gubat, Sorsogon
d. St. Michael the Archangel, Irosin, Sorsogon
e. Our Lady of the Immaculate Conception, Bulan, Sorsogon
September 24
- Diocesan Women's Network, St. Matthew's Hall, Sorsogon City
September 26
- Family and Human life Coordinators, St. Matthew's Hall, Sorsogon City
The councils tasked with the formulation of specific guidelines and programs for implementation by the different commissions have an acronym of FLYMEWEST, i. e.: Family and Human Life, Laity, Youths, Worship, Education, Service, and Temporalities.
The Vision of the Diocese of Sorsogon & the Goals of the Diocesan Pastoral Plan:
The Vision:
A community of FAITH living in LOVE according to the Gospel message, responding in SERVICE to the signs of the times, striving in HOPE, for the coming of the Kingdom.
Goals-Phase I-III:
1. to form the local church into an evangelical and evangelizing communtiy of FAITH, HOPE, and LOVE
2. to organize the Local Church of Sorsogon into a worshipping and serving community, present in small communities that give witness to a life of Unity, Justice, Peace, and Love.
3. to organize in the Local Church of Sorsogon basic communities that are fully worshipping and serving, and empowered to give witness to Christian Stewardship.
Goal-Phase IV:
1. to form a Local Church
a. where Faith and Life are integrated
b. where Justice and Love are the norms of social life, and
c. where authentic Christian families are formed through an effective organization, properly managed resource, and sufficient program of formation. (Juan G. Galindes)
PROMOTIONS, MOVEMENTS IN BULUSAN DISTRICT
Along with the DEPED policy on quality education, some heads of schools were transferred to schools where their services are more aptly needed, to wit:
1. Dr. Lorenzo F. de Castro is now at Gubat South Central School, Gubat South District, Gubat, Sorsogon, as Public Schools District Supervisor. Bulusan District PSDS is vacant.
2. 2. Dr. Romeo D. Domasian, Bulusan Central School Principal II is now at Gubat North Central School, Gubat North Disctrict. Mrs. Rosalina P. Burabod is transferred to Bulusan Central School; she comes from Cumadcad Elementary School, Castilla West District.
3. In the District of Bulusan, here are the new movements:
| | | |
| --- | --- | --- |
| a. Mrs. Norma H. Fumera | - ESP-I | - San Roque Elementary School |
| b. Mr. Nicolas Freo | - ESP-I | - Sabang Elementary School |
| c. Mr. Elias Fuedan | - ESP-I | - Buhang Elementary School |
| d. Mrs. Gloria P. Freo | - ESP-I | - Porog Elementary School |
| e. Mrs. Atanasia Frivaldo | - ESP-I | - San Antonio Elementary School |
| f. Mrs. Norma G. Quiñones | - ESHT-III | - Porog Elementary School |
| g. Mr. Edgardo Gabales | - ESHT-II | - Dancalan Elementary School |
| h. Mr. Ramon F. Atianza | - ESHT-I | - San Francisco Elementary School |
Sta. Barbara Elementary School needs a Head Teacher; while the other schools are under the Teachers-in-Charge. Some other teachers were promoted as Master Teachers but almost eleven vacated items have not been replaced. One of the reasons cited is the decrease in enrollment. (Juan G. Galindes)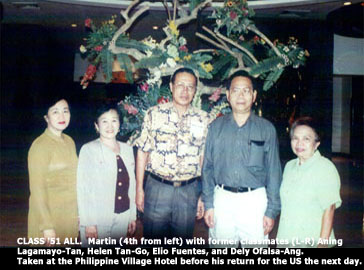 After having been bedridden in painful agony for a year and a half, Mr. Martin Gaylon Halum finally succumbed to lung cancer on August 11, 2004 at the family residence in New Jersey, USA. At his bedside were his loving wife, the former Marietta Moraleda of Sorsogon City and their children, Marissa, 26 and Martin II, 24.
His remains were brought home to Bulusan on August 20 and were interred at the Halum family mausoleum the following day at 12:00 noon.
Earlier at 9:00 A.M., a concelebrated mass and necrological service were held at the St. James Parish Church before a big crowd of family members, close relatives and friends, former classmates, and symphatizers who were all so saddened by his untimely demise. Among the speakers who spoke highly of him were his former classmates at the seminary.
But what touched most the hearts of those who attended the funeral rites was the letter of the late Mr. Halum himself which was read by a sister-in-law. In the letter, he related all the sufferings and mental torture he endured from the time his illness was detected until his dying moments.
It was after his vacation in Bulusan with wife Marietta sometime last year that he was diagnosed in the US to have a lung cancer in the fourth stage.
The whole family who loved him so much tried hard to save him from the dreaded disease by getting the services of known specialists in the said country but they were only able to prolong his life until finally the end came to him at age 66.
This very kind-hearted, humble, and mild-mannered gentleman was well loved by those who know him. In fact, upon knowing of his physical condition, many prayed fervently for his recovery. Despite his high social stature being the son of a prominent couple, the late Don Ramon Halum, Sr. and Doña Salvacion Gaylon of Barangay Dancalan, his humility was beyond question. He had a soft spot in his heart for the poor. In fact, he had planned to continue helping uplift the living conditions of the indigents upon his retirement.
A few years back, he met with his childhood friend, former classmate and Igsoon Elio Fuentes at the Philippine Village Hotel in Parañaque City. He was then to depart for the US the following day after attending the burial of his late brother Pacien in Bulusan. In their conversation, Mr. Halum signified his desire to sponsor a scholar in college through the scholarship program of Damayan-Buluseño, Inc.
Last March, his scholar, Salvacion Gardon, graduated in Education from the Bicol University. Last June, just two months before his death, his scholar started teaching at the Immaculate Heart of Mary School in Bulusan.
He wanted to sponsor more scholars from poor families so that Bulusan could have more professionals but all his dreams were cut short in a very painful way by the treacherous disease.
For the readers to feel and understand how it is to be afflicted with cancer, here is the full text of Mr. Martin Halum's letter:
In the past, I saw a few people suffering from cancer. Some acquaintances, a friend here and there, no family member though, except my wife's, and I thought I knew how much they suffered. I was wrong… what cancer does to you is more than what it is cracked up to be. Before it takes your life, it has already taken away your living. It robs you of your very being and replaces it with a nightmare of endless pains and deep anguish. I see cancer with my own eyes each morning as I face the mirror. Even now, I cannot believe what I see – what is here and now: a pitiful shadow of what I was a mere year and a half ago.
Pain, the one that foreshadows the finality of life, is beyond words and so personal. It is yours and no matter how much love and devotion from people around you, it's yours alone. It keeps you from sleep, and when exhaustion takes over, sleep is never serene or relaxing. [The pain] is there from the time you awaken and accompanies you through the long hours of the morning, afternoon and evening. There's no hiding from its relentless and degrading onslaughts.
For it has reduced me to no more than a moving mass of tissues unable to even feed itself. Gone is the proud strength of being a man, a husband, a father, perhaps a human being. I cannot drive, cannot go anywhere without a companion even to the toilet. Cannot move around without help. My wife…she has practically given up her dental practice; my daughter and son…they had to go through very challenging academic years with my situation weighing on them; Tini, my son, even suggesting that he take off from medical school so he could help in my care. I have become a burden to the very people I committed my life to support and protect.
As bad as the physical suffering is, it is not the gut-wrenching and heart-breaking torment of my soul. Life was good, very good before all of this. I took [forced into] an early retirement. Happily, it turned out. I worked hard for so long – while Marietta went through dental school and our two children through college – and the hard work was just beginning to bear fruit in the success of my wife's practice and the accomplishments of our two children. The pride and joy of my life who were going on to doctoral programs in health care. I could not have dreamt of a more blessed fortune. It was a time full of promise—graduations, family get-togethers, then perhaps weddings, and finally grandchildren, baptisms, holy communions…they were all within sight, when this cruel monster struck and cut me down and all of my dreams, yearnings, hopes and happiness came crashing down.
Last week, the results of the last MRI of my brain finally came in after 6 weeks of waiting and the doctor said in so many words that there was nothing else really that can be done for me. We did not want to break the news to my son who was preparing for board exams and to my daughter who was actually taking her boards, not as yet anyway. But they knew, and I know they knew because I heard Tini sobbing in his room last night…Tini – the wholesome, young man who embodies my ambitions in life, my golf-buddy, my friend…I now won't see him in his doctor's garb. Marissa – my beloved and precious one who has grown up to be a source of pride, following the footsteps of her mother. And my wife who is loved and loves a hundred more times back in return – these are my greatest losses and it just breaks my heart to think that I have been robbed of years of sharing, of caring, of just being with them.

Articles Menu | Top | 1 | Page 2 | 3 | Next Page »