Page 1 of 3
MR. ARNOLD CLAVIO IS PISTA GUEST
MULTI-AWARDED TV HOST/ PERSONALITY ARNOLD "IGAN" CLAVIO was the Guest of Honor & Speaker of Damayan-Buluseño, Inc. during its Pista sa Maynila celebration last July 9 at the Knights of Columbus Clubhouse in Intramuros, Manila.
In his inspirational message, Mr. Clavio surprised the big crowd of Buluseños on his knowledge about the life of St. James the Greater, the patron saint of Bulusan. Most of the Buluseños in the audience knew very little about St. James except for the fact that he is their miraculous patron.
In closing, he gave his very inspiring reminder to his audience to do something good in their lives everyday.
In appreciation of his efforts to honor their invitation despite his very hectic schedule, and for his very inspiring message – the association, through its president, Engr. Pablito R. Freo, presented a plaque of recognition to Mr. Clavio for his sterling achievements in investigative journalism which greatly inspired them to have him as guest of honor & speaker on the said occasion. His presence was made possible by Mrs. Nenette Reyes – Manda, a director of Damayan-Buluseño, Inc.
Another speaker in the said affair was Atty. Irving N. Fabic, Sr. who spoke highly of the association. Atty. Fabic who was one of its advisers, is the better-half of the former Nena B. Gonzales who sponsored the first mass for the Buluseños in Metro Manila at the Holy Trinity Church in Balic-Balic, Sampaloc which paved the way to the birth of DBI.
The celebration was again another hit where Buluseños from different parts of Metro-Manila and nearby provinces of Bulacan, Rizal, Laguna, and Cavite trooped to the Knights of Columbus Clubhouse to join the merry-making.
As has been the tradition, the affair was ushered in by a mass at 2:00 p.m. celebrated by Rev. Fr. Aris bajao of the San Agustin Church. Other highlights of the occasion include the presentation of plaques of recognition to Mr. Anonymous and Madam Luz Z. Gamba who both sponsored the newly graduate scholars of Damayan-Buluseño,Inc. and Damayan-Buluseño Foundation, Inc.
On the entertainment part, songs were rendered beautifully by singers from the Pamantasan ng Lungsod ng Pasig (PLP). The dance troupe from the same school presented native dances to the great delight of the audience. Their participation was made possible by Mrs. Marichu F. Arellano,a director of DBI, and a faculty member of PLP.
Adding to the excitement of the celebration was the raffle where a good number of lucky winners brought home various prizes.
ENGR. PABLITO R. FREO, NEW DBI PREXY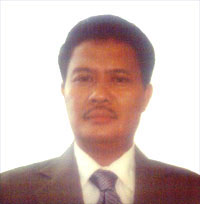 Although he is known in his native barangay of Sta. Barbara (Odiquin) and nearby Bagacay, Buhang, Porog, and San Isidro – the name Engr. Pablito R. Freo is virtually unknown to his townmates in almost all the other areas in the municipality of Bulusan.
In fact, when his name popped up as the new president of Damayan-Buluseño, Inc. replacing Madam Luz Z. Gamba who resigned early this year for personal reasons, Buluseños in the town proper and in other barangays raised their eyebrows in astonishment. They could hardly believe that an unknown guy from a depressed far-flung upland barangay would be capable of managing the affairs of a town organization like DBI. "Who is he?" they asked. "We have never heard about him or met him from Adam."
But, Mr. Rogelio F. Fuentes, past president of the association who knows Engr. Freo very well is quite confident that he can give justice to his position effectively as he is not new in the management aspect. Mr. Fuentes recalled that it was in the year 2000 during Engr. Freo's incumbency as president of the Buhang National High School Alumni Association, Inc. that the school witnessed one of the most memorable affairs it has ever had - the highly successful alumni homecoming held that same year.
In the affairs of DBI, Engr. Freo is already well-versed in its various projects and activities having been one of its directors, 2nd vice-president, and 1st vice-president before assuming the presidency. For the past three years, he has been the treasurer of the Damayan-Buluseño Foundation, Inc.
Mr. Fuentes assures the Buluseños that Engr. Freo can pass this test of leadership with flying colors. In fact, his term is supposed to end in December this year but due to the popular clamor of the members because of his kind of leadership, the board of directors unanimously approved the extension of his services for another term. This is vital as the association is set to celebrate its silver anniversary next year.
Aside from his aforementioned credentials, Engr. Freo is also an active member of prestigious organizations such as the Integrated Institute of Electrical Engineers, Rotary Club of Manila East, PYP Mansion-II Corporation, Society of Philippine Electrical Contractors and Suppliers, Inc. (SPECS) and Society of Architects Golf Association, Inc. (SAGA).
Engr. Freo or Lito or Pabling as he is fondly called by kins and friends, is a son of a poor couple, Jose and Maria Freo. A consistent honor student in the elementary and high school who was gifted with talent in math and science, he worked really hard to pursue his course in electrical engineering and successfully hurdled the board licensure examination in 1986.
Through hardwork and perseverance, from his humble beginnings, he rose to become a successful businessman. He is now the vice-president of GRL Electric Corporation, a firm contracting installations of electrical facilities of different structures from townhouses to high-rise condominium buidings, from office buildings to commercial complexes, etc.
This successful electrical engineer from the tiny mountainous barangay of Odiquin is happily married to Leila or Lei Dumayas of San Marcelino, Zambales with who he has three kids - Anthony Paulo, Raymund Charles, and John Patrick.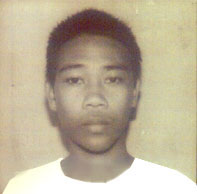 GLENN F. GAMBA, the last scholar of Damayan-Buluseño, Inc. graduated last April from the Polytechnic University of the Philippines (PUP) –Manila. Glenn who finished Civil Engineering, was the 28th scholar under the Scholarship Through Sponsorship Program of the association.
A son of a fisherman, Mr. Gregorio Gamba and the former Fe Fortes– both of Barangay Sabang, Glenn was sponsored by a foreign-based Buluseño who requested anonimity. A product of the Jose S. Reyes Memorial Foundation (formerly Bulusan Institute), he was its valedictorian when he graduated in high school in the year 2000.
Glenn was with her mother when he presented the Plaque of Recognition to his benefactor during the Pista sa Maynila celebration of Damayan-Buluseño, Inc. last July 9 at the Knights of Columbus Clubhouse. Mr. Rogelio F. Fuentes, past president of DBI, received the plaque in behalf of the sponsor.
When asked of his plans now that he has finished his engineering course, Glenn said he has to find a job first and save for his board examinations.
This year also, the first three scholars of the Damayan-Buluseño Foundation, Inc. to graduate finished their vocational courses at the Bulusan National Vocational & Technical School. They were: Crisanta G. Escaros, Edwin G. Deuna, and Helen F. Fuentes.
| | | |
| --- | --- | --- |
| | | |
| Crisanta G. Escaros | Edwin G. Deuna | Helen F. Fuentes |
Both Crisanta and Edwin took up Hotel & Restaurant Management while Helen was in Garments Technology. They were all sponsored by Madam Luz Z. Gamba, vice-chair of DBFI under the same program.
The Scholarship Through Sponsorship Program was initiated by Damayan-Buluseño, Inc. in 1983 and was continued by the Damayan-Buluseño Foundation, Inc. when it was founded in late 2003.
Mr. Fuentes who is the chair of the foundation said that this program was implemented purposely to give opportunities to bright and talented high school graduates from poor Buluseño families to pursue college education so Bulusan could have more professionals from the sector of the poor. He strongly believes more dedicated and dynamic leaders will come from out of them.
As of now, the program has already produced a total of 31 graduates in engineering, accountancy, education, business management, agriculture, customs administration, and vocational courses.
Three of them graduated Cum Laude. Some of them have also their own scholars under the same program. Others are supporting their parents and younger siblings in their studies. Actually, there could have been more graduates through this program if only five of these scholars did not quit along the way without even notifying the association about the matter, lamented Mr. Fuentes who took pains convincing their sponsors.
PRESENT SCHOLARS
According to Mr. Fuentes, at present they have six scholars pursuing different courses under the sponsorship of Buluseños and friends in Metro Manila and other part of the country. They are: Marissa D. Frando, Jenielyn D. Furo, Analyn E. Gallano, Divina B. France, Regine G. Huit, and Darsy J. Fortajada.
| | | | |
| --- | --- | --- | --- |
| | | | |
| Analyn E. Gallano | Divina B. France | Regine G. Huit | Darsy J. Fortajada |
Marissa who is in third year in education at the Philippine Normal University - is sponsored by Mr. Frank Fernandez, Jr. of Mandaluyong City.
Also in her third year in education but this time at the Technological University of the Philippines, Jenielyn is under the sponsorship of Ms. Nenita Somatiza of Pasig City.
An anonymous Buluseño based abroad is the sponsor of Analyn who is in her second year in education at the Bicol University-Gubat Campus.
Mr. & Mrs. Lee Hasal are the sponsors of Divina, now in second year in B.T. Electronics at the Sorsogon State College. A retired US Navy now residing in the USA, Mr. Hasal and Buluseña wife, the former Concordia Gallardo, have been very supportive of the projects of DBI.
Another anonymous Buluseño based abroad sponsors the scholarship of Regine, now a sophomore in accountancy at the Bicol University, Daraga, Albay.
Mr. Albert Manuel, a native of Bataan but now an executive of a Singapore-based company, is the sponsor of Darsy who is in her first year in education athe Sorsogon State College.
APPEAL FOR SUPPORT
Mr. Fuentes is very determined to seek more sponsors and donors for this program so it could accommodate as many scholars as possible from the underprivileged sector especially from the most depressed barangays of the town. He said, he hates to see wasted talents of young men and women just because of poverty.
It is very lamentable he said , that we see around many affluent members of our society throwing away even millions in luxuries and vices but are unmindful of the plight of the poor but bright young minds who could have been great leaders someday if given the opportunity to pursue higher education.
He is therefore humbly appealing to his fellow Buluseños and friends who may have the concern to support this program of the foundation for the benefit of the entire community.
For those interested, inquiries may be sent through this e-mail address: eliofuentesdbi@yahoo.com or to Damayan-Buluseño Foundation, Inc., Suite 6 & 7 Framel Building, 676 EDSA, Cubao, Quezon City 1116.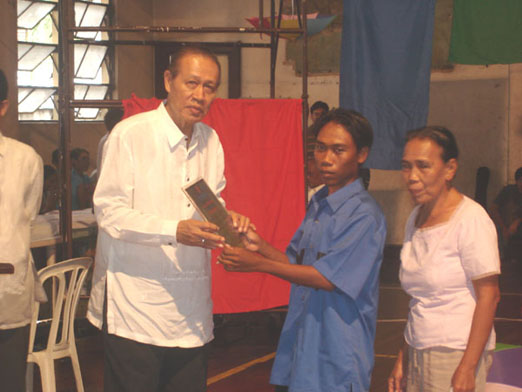 THE two sponsors of the scholars who graduated this year were awarded plaques of recognition during the Pista sa Maynila celebration of Damayan-Buluseño, Inc. last July 9 at the Knights of Columbus Clubhouse.
Awarded were Mr. Anonymous and Madam Luz Z. Gamba. Mr. Anonymous who is based abroad was the sponsor of Glenn F. Gamba, the last scholar of Damayan-Buluseño, Inc. who graduated in Civil Engineering. Glenn, assisted by his mother and DBI President Engr. Pablito R. Freo, presented the award to Mr. Anonymous who was represented by Mr. Rogelio F. Fuentes.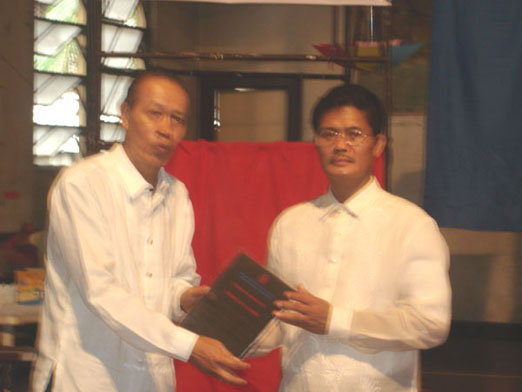 Madam Luz sponsored the first three three graduates of the Damayan-Buluseño Foundation, Inc. who took up vocational courses at the Bulusan National Vocational Technical School. In the absence of the scholars and as Chairman of the foundation, Mr. Fuentes presented the award to Engr. Freo in the absence of Madam Luz.
It has been the tradition of DBI and DBFI to present awards to sponsors of graduating scholars for their wholehearted support to the Scholarship Through Sponsorship Program which is highly commendable and deserves recognition.
DBI GEARS FOR MORE ACTIVITIES AHEAD
After that successful Pista sa Maynila celebration last July 9, the officers of Damayan-Buluseño, Inc. led by its president, Engr. Pablito R. Freo, are again busy working out plans for their fundraising activities for the forthcoming Damayan Christmas Drive '06 and the soon-to-be-revived joint Bulusan Central School & Damayan '07 during the coming Holy Week.
Right now, a committee headed by Mr. Melchor A. Hasta, the association's business manager, is scouting for candidates to the Miss DBI Silver Girl '07 in line with the 25th commemoration of the founding anniversary of Damayan-Buluseño, Inc. Winner in this contest will be crowned on Valentine's Day in Manila and will be part of the entourage that will be paraded in Bulusan during the homecoming.
According to Mr. Hasta, the presentation of candidates and canvassing of votes will be held on November 18. The last canvassing will be on January 20, 2007.
Another fundraising activity is slated on the first week of December this year. It will be a Christmas carolling by the Damayan-Buluseño Choir around Metro Manila and nearby areas.
Engr. Freo said that there will be series of monthly activities next year in line with the silver anniversary of the association the most significant of which being the homecoming and the medical/dental clinic & operation: tule.
BUHANG NATIONAL HIGH SCHOOL is now JAIME G. ESPEÑA HIGH SCHOOL
Buhang National High School, the pioneer public secondary school in Bulusan, is renamed Jaime G. Espeña High School. The change in the school's name was spearheaded by the Municipal Council through its Resolution No. 73-2003. It was in response to the popular demand of the people of Barangay Buhang to recognize the meritorious achievements and contribution of the late Dr. Jaime G. Espeña, one of the revered sons of the barangay in the areas of medical social work and charitable endeavors.
The school metamorphosed from its humble beginnings in 1967 to its present status. The sprawling campus (the lot donated by the Espeña family) houses eight (8) buildings where 696 students are currently enrolled.
There are on-going projects to upgrade facilities like the construction of the health clinic funded by the canteen, construction of stock room (partly funded by the LGU), installation of window grills, and construction of a concrete fence.
All these are realized under the able management of Principal Dr. Eufemia Gabionza-Gamba. (Mr. Edgardo B. Din – Teacher-III)
The officers of the Parents Teachers Community Association (PTCA) of the Sabang Elementary School headed by Mr. Nicolas Freo should be emulated by others in the district.
Through their own initiative, they were able to raise funds for the improvement of vital school facilities. By way of a popularity contest sponsored by the association, they were able to realize their projects which cost a total of P41,677.40.
These are: 1) renovation of the intermediate comfort room – P7,436.75; 2) acquisition of a sound system – P13,840.00; 3) repair of school gate and entrance – P3,174.00; 4) repair of the home economics comfort room – P1,085.00; 5) acquisition of an office table – P2,448.00; 6) repair of the water system which includes labor, five cubic meters of sand, and assorted electrical materials – P13,693.65.
All these were made possible by the concerted efforts of the officers of PTCA led by Mrs. Eva B. Abion and Mr. Emmanuel F. Geva, Jr., the teachers & parents of school children, and residents of the barangay.
Meanwhile, Mr. Elias G. Fuedan of the Buhang Elementary School reported the following on-going projects in their premises: the repair and painting of the school's roof and ceilings, and the reconstruction of the DOH toilet.

Articles Menu | Top | Page 1 | 2 | 3 | Next Page »