Page 2 of 3
After the big success of its Christmas Party last December 14 and the fruitful results of Damayan Chrismas Drive `03, Damayan-Buluseño, Inc. now focuses its attention to its yearly free medical/dental clinic and operation: tule in Bulusan on Black Saturday, April 10, 2004.
Due to the present severe economic crisis, the association intends to acquire large quantity of medicines and dental supplies to serve more patients than in the past years.
That's why this early, DBI is calling again on fellow Buluseños and friends who are concerned for the health of their poor townmates to share whatever they can to make it another successful project of the association.
The association also expects again the presence of the volunteers who never tired serving their constituents.
This civic action has been going on since 1983 and normally extends services to more than 500 patients every year who come mostly from remote and depressed barangays of Bulusan.
ANOTHER SCHOLAR PASSES BOARD EXAMS
One of the four scholars of Damayan-Buluseño, Inc. who graduated this year passed the board examinations for elementary teachers given by the Professional Regulations Commission (PRC) last August 30 and released on October 18, 2003.
Miss Gardon is the second scholar of DBI to pass the PRC board examinations this year. The first was Mr. Marlon Rabulan who is now a licensed Electrical Engineer and a Master Electrician.
A graduate from the Bicol University in Legaspi City, she was one of the 25 scholars of DBI's Scholarship Through Sponsorship Program who are now professionals. She was sponsored by Mr. Martin G. Halum, a Buluseño businessman based in New Jersey, USA.
Miss Gardon intends to apply for a teaching job at a public elementary school in Makati City in the next school year.
The Federation of Senior Citizens' Associations of the Philippines – Bulusan Chapter held its regular meeting & election alongside its Christmas Party & Program on December 28, 2003, 9:00 a.m. to 4:00 p.m., at the Bulusan Cultural & Sports Center. Every member who registered for the affair received two packs of Lucky Me, compliments of the Damayan-Buluseño, Inc.,-Manila Chapter, as a Christmas gift.
After the ritual prayer and singing of the National Anthem and the reading and approval of the previous meeting's minutes, the election of officers for 2004-2005 was conducted. All of the officers of the immediate term past were re-elected after it was duly decided upon to retain the same set of officers for another two years. Those re-elected were:
Mr. Juan G. Galindes - President
Mr. Jaime M. Espidido - Vice-President
Ms. Esperanza E. Gallego - Secretary
Mrs. Soledad G. Tan - Treasurer
Mr. Domingo Frilles - Auditor
Mr. Manuel G. Galan - Business Manager
Mrs. Conchita A. Gabion - Asst. Business Manager
Mr. Santiago Borsigue - Press Relation Officer
Mr. Mauro B. Fulo - Marshall
The elders enjoyed their Christmas Party. After a little rest, the singing of Christmas songs was led by Mrs. Virginia F. Fulleros. Prizes were given to dancers of the Square Dance, the Pantomina, and the Sinisique. Other prizes were given to singers and to raffle winners.
Thanks for the gifts (prizes): Lucky Me from DBI; school bags, notebooks and pencils and clutch bags from Purina through Mr. Roland T. Grabador, Jr.; and wrapped t-shirts from Ms. Luz Z. Gamba. There was also an exchange of gifts, adding to the enjoyment of the elders, ever wishing for another Christmas Day! (JGG)
In accordance with the Catholic Church,'s liturgical calendar wherein the Sunday after Christmas Day is dedicated to the Feast of the Holy Family, the Parish Pastoral Council (PPC), St. James the Greater, Bulusan, Sorsogon, held its Pasko ng Pamilya on December 28. 2003, 9:00 a.m. to 2:00 p.m., within the confines of the Parish Church due to the continuous outpour of rains. Originally, this day was for the Family Life Apostolate, now Council for the Family and Human Life, but was later adopted by the PPC as a parochial celebration for all officers and members of all religious organizatios.
A Christmas program and party - Christmas songs, dances, and messages from Mr. Reynlado D. Din, Hermano Mayor, and Rev. Fr. Roberto T. Traballo, Parish Priest, were enjoyed by adult parishioners and their children.
There were exchange of gifts for the adults, quiz for the children on religious information, parlor games, and raffle for all. Prizes came from a Bulusanon based in Manila through the Damayan-Buluseño, Inc., from Councilor and Mrs. Menandro F. Frayna and from some members of the CFHL.
To climax the solemnity of the day, four families complete with the father, mother and children – were recognized and given prizes, to wit:
1. Mr. & Mrs. Veronico Fornias - Madlawon
2. Mr. & Mrs. Manuel Bailon - Looban
3. Mr. & Mrs. Luis Bringino - San Jose
4. Mr. & Mrs. Anastacio Bañares

- Mabuhay

(JGG)
BARANGAY OFFICIALS GIVE AWAY GIFTS TO CONSTITUENTS
Sapngan is indeed the barangay to emulate. Perhaps, it is the only barangay in Bulusan where its officials led by Chairman Salvador "Buddy" Fuller, gave away 130 bags containing 3 kilos rice and 3 cans sardines each as their Christmas gifts to their indigent constituents last December 24.
Aside from the food items from the incumbent barangay officials, former Chairman Andres "Ari" Frando also distributed brand new dusters, t-shirts and shorts to 118 poor residents in their barangay. These items were the Christmas gifts from Ms. Ma. Ana C. Maglasang, a Metro-Manila businesswoman who was the sponsor of the scholarship of Cherry Fuasa.
Another 10 Sapngan residents received bags containing rice, corned beef, sardines, noodles, coffee, sugar, 8 0'clock juice and Bear Brand milk.
According to Chairman Fuller, their give-away items which were worth P9, 100 were realized through the voluntary contributions from the incumbent barangay officials of P50.00 a month to be deducted from their monthly honorarium from January to December. This was augmented by the P2, 500 contribution of Mayor Juan G. Guysayko.
The Chairman would also like to inform his barangaymates that their next priority projects are the installation of protective iron grills in the barangay hall, and the construction of a comfort room in their Day Care Center and a pathway on the way going to Dulipay.
MARIKINA EXPERIENCE: AN ARCHETYPE TO BOOST THE LGU'S TOURISM INDUSTRY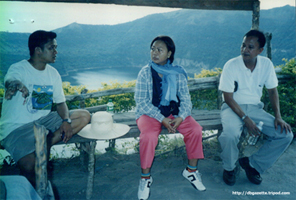 OVER TAAL'S PEAK: Resident volcanologist Allan Loza, also from Sorsogon, articulates on the Taal Lake area, a protected area under the management of IP (indigenous people). Looking on are (from left) Ms. Luz Z. Gamba and Mr. Albie Españo.
"Sometimes, you may have everything in the world, but you become complacent of what you have, and at the end you don't realize you have squandered everything."
This is the provocative remark of Mr. Mario Villanueva, Marikina City Tourism Officer and concurrently NCR President of Tourism Officer and Vice-President of Association of Tourism Officers of the Philippines (ATOP), upon initial assessment of the potential tourist attractions of the Municipality of Bulusan during his visit as resource speaker of Orientation/Lecture on Barangay Tourism Council on December 22, 2003 at the Bulusan Cultural & Sports Center.
Mr. Mario Villanueva, the architect behind the economic boom of Marikina City, arrived in Bulusan on December 21, 2003 and in the afternoon took a side trip to the tourist destinations for his initial inventory to get acquainted with the physical, natural, and demographic aspects of the municipality.
The Marikina experience via development of barangay tourism is a paradigm shift to spur economic activity at the community level. It requires first of all an understanding of what we have in the barangay and in the municipality as a whole. According to Mr. Villanueva, barangay tourism council is community-based program to help fight poverty. Because it is an organization duly recognized by the municipal tourism office with a common bond of interest; that have voluntarily joined together with a common goal/objective and to achieve a lawful common tourism interest and with economic value at the end. It is in this rational concept that successful tourism can only happen with a people who takes pride and with accountable commitment in their own destination's history, nature, culture and traditions, he added.
This one-day activity is part of the initiatives of the CORE GROUP of Municipal Tourism Council (MTC) created by virtue of Executive Order No. 24 executed by Mayor Juan G. Guysayko on the urgent need to carry out the effective and efficient implementation of the signed Memorandum of Agreement (MOA) for the management particularly of the Lake Area of the Bulusan Volcano National Park (BVNP) last October 10, 2003. The CORE GROUP is being tasked to facilitate organizational planning and operationalization of the Terms of Reference (TOR) stipulated in the MOA under Article II. B, as per approved Bulusan Lake Management Plan. They are composed of combined personnel from the LGU and accredited NGO, San Roque Life Bringers Foundation, Inc. namely: Mr. Albino E. Españo, Mr. Roswell H. Ramos, Mr. Ramon G. Belleza, Ms. Luz Z. Gamba, Mr. Zosimo E. Gamba, and Mr. Antonio Fumera. The group also conducted a series of meetings/interviews to the persons with relevant expertise in the field of tourism in order for them to gain and acquire more knowledge, which could be reflected in Bulusan. (Binoescañoespaño '04)

Articles Menu | Top | 1 | Page 2 | 3 | Next Page »