Page 1 of 3
S.OS. FOR IN-DISTRESS BULUSEÑOS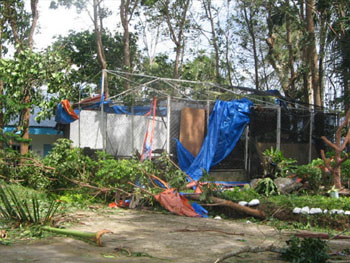 When Typhoon Milenyo badly battered the Province of Sorsogon, more than a hundred poor Buluseños were rendered homeless and more number of houses were damaged. Worst of all, the typhoon caused enormous destruction to their sources of livelihood especially to the farmers whose income mainly depend on rice, coconut, pili, banana, abaca, and other fruit-bearing trees - but which were either uprooted or severely devastated. Added to this misfortune was the thick ash fall from the volcano a few days later that affected much the health of the residents especially those with weak physical condition, and the children.
Based on their past experiences in calamities like this, it may take some years for them to recover their losses and be back to their normal lives again.
Their pitiful situation moved Engr. Pablito R. Freo, president of Damayan-Buluseño, Inc. – and Mr. Rogelio F. Fuentes, chairman of Damayan-Buluseño Foundation, Inc. – to urge fellow Buluseños in Metro-Manila and nearby areas to join together and come to the aid of the calamity victims in their hometown. They are appealing for full support to Damayan Christmas Drive '06, a yearly gift-giving project of Damayan-Buluseño, Inc. for the indigent Buluseño families.
Because of the recent calamities that made their lives even miserable, Engr. Freo & Mr. Fuentes said, the association intends to send to Bulusan a larger quantity of items this time than those in the previous years. They welcome donations of rice, noodles, canned goods, and other foodstuffs and clothes.
Those who wish to donate are requested to bring their donations to the Knights of Columbus Clubhouse in Intramuros, Manila on December 10 at 2:00 PM at the association's Christmas party and turn them over to Ms. Aida G. Lim.
Donations in cash are most welcome, as the rice will be purchased in Bulusan where it is cheaper and doing so is thus more practical. Cash donations may be remitted to Account No. 211-574839-7 of Damayan-Buluseño Foundation, Inc. (PNB Aurora Branch, Cubao, Quezon City).
Upon remittance, the donor is requested to notify at once Engr. Freo thru tel. no. 912-9141 /cell phone no. (0918) 559-6522; or Mr. Fuentes at tel. no. 456-7258 /cell phone no. (0917) 629-5277. Acknowledgment shall be sent back to the donor upon actual receipt of the remittance.
---
On a late afternoon last October, Bulusan Volcano spewed ash again. Worst hit by thick ash fall was Barangay San Roque in Bulusan. Scores of children and adults were brought to the Municipal Health Center where Dr. Lopo, the Municipal Health Officer, wasted no time in administering medicines to people with respiratory infection such as asthma due to severe inhalation of ash fall and conjunctivitis.
Mayor Juan G. Guysayko instructed Mr. Albino Españo, Municipal Disaster Coordinating Council Officer, to make the rounds of the barangays affected by the ash fall and to inform the residents therein to cover their noses with wet towel. LGU officials and MH personnel together with the Barangay Health workers also distributed facemasks.
There was much camaraderie and volunteerism amongst them. They performed their munch-needed assistance to the victims in this time of need. Meanwhile, the LGU officers headed by the mayor kept awake and monitored any irregular activity of the volcano.
To this day, the unpredictable volcano remains restive. (Nenette Reyes)
---
MILLIONS DAMAGED BY MILENYO
Several millions of pesos worth of agricultural crops were lost and thousands of houses were either totally damaged or have partial damages and a resident was injured when Typhoon Milenyo hit the Bicol Region on September 27, 2006.
In a report submitted by Mrs. Ester B. Firmanes of the Department of Agriculture-Bulusan – the following were the amount of damages on the different crops in the municipality: coconut-P6,739,440.00; pili nut-P5,230,500.00; banana-P15,000.00; vegetables-P1,000.00; and mango-P90,000.00.
During the typhoon's onslaught, the coconuts, bananas, and pili nuts were all in their fruit-bearing stage; while rice, vegetables, and mangoes were in their maturity stage.
Meanwhile, in her terminal report to Municipal Mayor Juan G. Guysayko, Ms. Marian Suzie R. Carranza of the Municipal Social Welfare and Development Office, stated that 187 houses were totally damaged while 2,021 were partially damaged. Only one resident from Barangay Salvacion was reportedly injured.
Ms. Carranza also reported that the LGU has received the following augmentation assistance: 50 bags of Asian rice from the DSWD Regional Office; 50 bags of Asian rice from the Provincial Government of Sorsogon; 10 bags of NFA rice from Congressman Jose G. Solis; and 684 packs of relief goods from the GMA Foundation. She also stated that the LGU has allocated 8 kilos of rice to residents with totally damaged houses. To these residents were also allocated 200 pieces of nipa shingles and 25 pieces coco lumber. Those with partially damaged houses were given 3 kilos of rice and 1 can of either sardines, corned beef, or Vienna sausage.
Per same report, the barangay councils also provided relief assistance to the affected families out of their respective calamity funds.
Milenyo, which was one of the most disastrous typhoons to ever hit the Bicol Region in recent years – severely devastated the Province of Sorsogon and left it in total darkness for many nights. Electricity was cut off due to several fallen electric posts along the way that had to be cleared & reinstated first before power could likewise be restored.
For twenty-two days, Buluseños were groping in the dark deprived of the comfort and luxury that electricity brings to their homes like ice, cold water, air-conditioning, electric fan, news and entertainment programs from radios and the TV. Only but a few stores had their stand-by generators to light their homes until 10:00 p.m. To get a share of the lights, neighboring houses could be connected with a fee of P30 a night, a source said.
---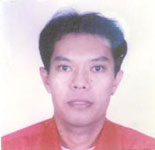 When Ms. Luz Z. Gamba resigned as president of Damayan-Buluseño, Inc. last January, she was automatically succeeded by the 1st vice-president, Engr. Pablito R. Freo. Mr. Andrew D. Espedido, the 2nd vice-president, took over the position vacated by Engr. Freo leaving the position of 2nd vice-president vacant.
To fill the vacant position, an election was held and Mr. Emmanuel (Eltam) Fortin was unanimously elected. Many were surprised how this man from Barangay San Antonio(Balite) was elevated to the position when he was just a year as director of Damayan representing Area IV to the Board which is composed of barangays San Antonio, Lalud, Tinampo, and Cogon.
Eltam, like Engr. Freo, is also a barrio boy whose name is a stranger to most Buluseños particularly those in the town proper and other areas in the northern side of the municipality. But, Mr. Fuentes, past president of Damayan, vouches for the dynamic leadership of Eltam and his sincere dedication to serve the association. Mr. Fuentes has known Eltam very well long before the latter joined Damayan.
According to Mr. Fuentes, it was Eltam who revived and reactivated the defunct organization of their barangay, the San Antonio Metro-Manila Association (SAMMA). Under his stewardship, their association has undertaken various projects for the benefit of their home barangay. This was actually the reason why Mr. Fuentes later persuaded him to join Damayan in January last year.
For a short period of time, Eltam has shown keen interest in the activities of the association, thus endearing himself to his fellow officers and other Buluseños who unanimously endorsed him to the vacant position of 2nd vice-president. They were so impressed by his dedication to serve the association in whatever capacity. According to Eltam, this was because of his "desire to support the legacy of Damayan and its good leadership."
Eltam who is now 37 years old is the son of Vicente Fortin and the late former Arles Frades of San Antonio.
A supervisor at the Standard Service Center in Pasay City, he is married to the former Muriel "Mhore" Furio of Barangay Lalud with whom he has five children – Eruel, 20; Ernel, 16; Eithel, 13; Erizel, 11; and Efril, 7.
---
FR. BUISING, BULUSAN'S NEW PARISH PRIEST
"Always pray for the good of your parish, and I wish that whatever I see now are the real and the true Buluseños."
These very words came from the heart of Rev. Fr. Joseph B. Buising, Bulusan's newly installed parish priest. He shall stay with the parish for the next three years. He formally replaced Rev. Fr. Antonio Zardo in a ceremony held last July 26, 2006 – a day after the feast of the town's patron saint.
A graduate of Philosophy and Theology from the Divine Word Seminary in Tagaytay City, Fr. Joseph was ordained on August 12, 1995 at the Mount Carmel Parish Church in Magallanes, Sorsogon – his hometown.
Prior to his ordination, he was deacon at the Sts. Peter & Paul Cathedral in Sorsogon City from September 8, 1994 to August 11, 1995. Immediately after ordination, he became the assistant priest also at the Cathedral, from August 12, 1995 to December 1996. From January 1997 to June 1999, he was the assistant parish priest at the Our Lady of the Most Holy Rosary Parish in Casiguran, Sorsogon and held the same position at the Our Lady of the Annunciation Parish in Bacon District, Sorsogon City from July 1999 to December 14, 2000.
He finally became a parish priest on December 15, 2000 at the San Nicolas de Tolentino Parish in Bentuco, Gubat, Sorsogon until June 2004. Prior to his present assignment in Bulusan, he was the parish priest of the San Ramon Nonato Parish in Guinlajon, Sorsogon City.
The fifth among the nine children of Mr. Regalado L. Buising and the former Zosima A. Balderama – both of Magallanes, Fr. Joseph was a consistent honor student during his school days. Before entering the seminary, he took up Hotel & Restaurant Management at the AMEC in Legaspi City where he graduated Cum Laude.
A multi-talented man, he is also a composer of songs, poems, short stories, and stage plays. In fact, from his high school and seminary days, he was recipient of the following awards: Best Poems – Provincial Level; Best Song – Diocesan Level; and Best Stage Play, Best Song, Best Director and Actor – College Level.
A real music lover, Fr. Joseph, now 43, loves to play the guitar, and to sing – his hobbies.
On his plans for the parish, although still in discernment, he wants to extend the convent and the pastoral hall. He also plans to convert Punta Diamante into a Garden of the Saints.
Knowing how supportive the Buluseños are of the projects of the church which they believe are for the best interests of their parish, Damayan-Buluseño hopes these plans would be like dreams-come-true to Rev. Fr. Joseph Buising.
---
RETIRED SENIOR POLICE OFFICER IV AND TESDA-BNVTS EMPLOYEE ASSUME CHURCH SOCIAL CARETAKER RESPONSIBILITY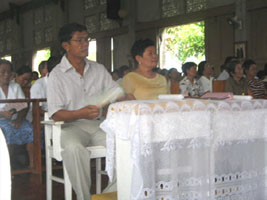 Retired Police Inspector Wilfredo Rellorosa Rafallo of Oas, Albay and Mrs. Nenita Rabulan Rafallo of Madlawon, Bulusan, Sorsogon are the newly installed Hermano and Hermana Mayor covering the period from October 2006 to October 2007. They are of the last batch chosen in the five-year slots.
Raffy and Nening as they are fondly called are both active in their respective religious organizations and are visible devotees of St. James the Greater. The former is a Holy Name Society member, Bulusan Chapter and the better half is an Auxiliary Member of the Ladies of Charity for 25 years now. She served with the LGU-Bulusan at the Office of the Municipal Accountant for 26 years and is now in her 8th year with TESDA-BNVTS as Administrative Officer I/Cashier.
In line with their duties as public servants, both excel and render efficient and effective dedicated service with great commitment in their assigned tasks. Their excellent performance is a manifestation of quality work and quality service.
The new hermano and hermana mayor are happily married for 31 years now and they are blessed with four children- namely Willie, a seaman; Wennie, an engineering graduate; Wilma, a UP Los Baños scholar graduate and the youngest son Wilfred a high school student of Dr. Jaime Espeña High School in Buhang, Bulusan, Sorsogon.
To the new hermano and hermana mayor - keep it up, and congratulations! (Jose G. Geñorga (Sevega); Retired VSA II, DBG Contributor)
| | |
| --- | --- |
| | |
| Outgoing hermano & hermana mayor Mr. & Mrs. Norberto Diño | Symbolic Turn-Over Ceremony |
---
NEWLY INSTALLED HERMANOS and HERMANAS
For the period: October 2006-October 2007
Early 8 o' clock in the morning of October 8, 2006, the mass started for the installation of the new hermanos and hermanas which totaled to 32 pairs including the hermano /hermana mayor. Rev. Fr. Joseph Buising officiated the mass attended to by quite an enormous crowd coming from the different barangays of Bulusan.
The simple installation ceremony was highlighted by the symbolic turn-over ceremony and hand-over of lighted candles by the outgoing hermano and hermana mayor to the incoming.
Here is the list of clustered barangays/visitas and their corresponding newly installed hermanos/hermanas:
| | |
| --- | --- |
| Cluster I | |
| Central | - Mrs. Soledad Son and Mrs. Leonila Forneloza |
| San Miguel (Sabang) | - Mr. & Mrs. Julian Dio |
| San Isidro Labrador (Mabuhay) | - Mr. & Mrs. Isagani Fungo |
| San Lorenzo Ruiz de Manila (Catorse Puno) | - Mr. & Mrs. Eddie Furton |
| Nuestra Señora de Peñafrancia (Dapdap) | - Mr. Roger Escaño & Mrs. Corazon Fontilar |
| Madlawon | - Mr. & Mrs. Domingo Francial |
| Poctol | - Mr. & Mrs. Nilo Fuller |
| Looban | - Mr. & Mrs. Antonio Galve |
| Fatima (Sapngan) | - Mr. & Mrs. Joseph Monteo |
| | |
| Cluster II | |
| San Roque | - Mr. & Mrs. Cesar Vitalicio |
| Nstra. Srs. De Salvacion | - Mr.. & Mrs. John Lumanggaya |
| Sagrada Familia ( Bagong Baryo) | - Mr. & Mrs. Juan Espedillon |
| San Rafael (Licod) | - Mr. Ricardo Fresnido and Mrs. Milagros Fortes |
| Milagrosa (Lubas) | - Mr. Armando Fucieran and Mrs. Mrs. Elizabeth Bagasala |
| | |
| Cluster III | |
| San Antonio (Balete) | - Mr. & Mrs. Roger Fortes |
| San Bernardo | - Mr. & Mrs. Ernesto Gapas |
| Sta. Teresita del Niño Jesus (Cabugawan) | - Mr. & Mrs. Rodrigo Fullo |
| Nstra. Sra. De Fatima (Tinampo) | - Mr. & Mrs. Jaime Belolo |
| Nstra. Sra. Del Carmen (Lalud) | - Mr. & Mrs. Antonio Fuentes |
| Sto. Niño ( Cogon) | - Mr. & Mrs. Jaime Geva |
| | |
| Cluster IV | |
| San Vicente (Buhang) | - Mr. & Mrs. Victor Espeña |
| San Ramon (Bagacay) | - Mr. & Mrs. Alberto Guererro |
| Sta. Barbara (Odequin) | - Mr. & Mrs. Waldo Esternon |
| San Isidro (Malubago) | - Mr. & Mrs. Francisco Villacorta |
| Nstra. Sra. dela Imaculada Concepcion (Capiricohan) | - Mr. & Mrs. Noel Firmanes |
| Sto. Niño (Porog) | - Mr. & Mrs. Ernesto Gacelo |
| Nstra. Sra. de Salvacion (Tawog) | - Mr. & Mrs. Fermin Espallardo |
| | |
| Cluster V | |
| San Francisco (Capangihan) | - Mr. & Mrs. Jose Fuentes |
| San Jose (Upper) | - Mr. Manuel Gacos and Mrs. Lydia Galve |
| Nstra. Sra. de Peñafrancia (Lower) | - Mr. & Mrs. Manuel Forteza |
| San Juan Bautista (Dancalan) | - Mr. & Mrs. Jaime Angeles |
After the mass, the hermano and hermana mayor served lunch to the outgoing and incoming hermanos and hermanas in the convent. Likewise, refreshments were distributed to the parishioners. (sevega)
(From the records of the Parish Pastoral Council)
Articles Menu | Top | Page 1 | 2 | 3 | Next Page »